Dedicated To Community Service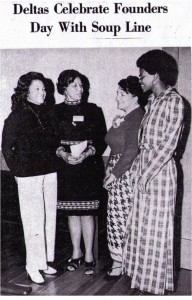 For over 80 years, the Berkeley Bay Area Alumnae Chapter of Delta Sigma Theta Sorority, Inc. has provided consistent, dedicated and unyielding community service to marginalized communities through its signature programs.  The chapter continues to provide charitable programs and services for adults and children in the areas of education, health promotion, adult and child literacy, mentorship for at-risk youth, and advocacy on major social, economic and political issues.  Activities and social action programs have included:
The Grandparent's Support Group
Elder Care Summit
Adult Literacy Program
Habitat for Humanity Build in West Oakland
The Delta Academy and Delta GEMS program, a mentorship and college preparatory/advocacy program for inner-city girls
The Children's Book Club, a literacy promotion program that provides education, resources, and modeling on how to increase reading competency for at-risk families in the West Oakland area
Contributions to the United Negro College Fund, NAACP, South Berkeley YMCA Youth Center, West Oakland Sr. Citizen's Center, and other organizations supporting scholarships and community change
For many years, the Jabberwock was the chapter's sole fundraiser for scholarships. Greek lettered organizations, social and civic clubs participated in the competitive, amateur extravaganza. Since that time, our premier fundraising efforts have included the annual Vivian Osborne Marsh Social Action Luncheon, the Red & White Scholarship Ball, and Art & Jazz Showcase. Throughout our 80 year history, we have awarded nearly $175,000 in scholarships to deserving students in an effort to reduce the achievement gap and increase economic equity. These annual awards are based on academic merit and a commitment to giving back to the community.