The History Of Berkeley Bay Area Alumnae Chapter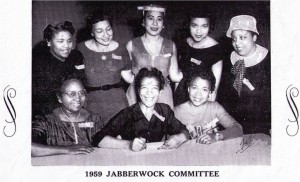 On March 30, 1934, the Omega Sigma Chapter of Delta Sigma Theta Sorority, Inc. was chartered in Berkeley, California "so that Bay Area women could continue their involvement in Delta Sigma Theta Sorority after leaving college." Charter members included: 7th National President Vivian Osborne Marsh, Grace Hackett Churchill, Muriel Taylor Flory, Mae Edwards Hill, Marguerite Evelyn Ware, and Eleanor Carroll Watkins.
Omega Sigma attracted Deltas from states all over the country. Bay Area employment, with high wages because of World War II, caused a tremendous influx of Delta women who became affiliated with Omega Sigma Chapter.
Omega Sigma grew by leaps and bounds and within a few years, there were so many members that their homes were unable to accommodate all of them for meetings. The members then discussed the feasibility and possibility of chartering a chapter in San Francisco, and thus, Gamma Phi Sigma (San Francisco Alumnae) Chapter was born.
In 1979, the name was changed to Berkeley Alumnae Chapter and then renamed to Berkeley Bay Area Alumnae Chapter to reflect the chapter's service area of Alameda, Albany, Berkeley, Emeryville, Oakland, San Leandro, and Castro Valley. Berkeley Bay Area Alumnae Chapter is the oldest alumnae chapter in Northern California.
13 current and past chapter members expanded their leadership for Delta beyond the local chapter and became elected National and Regional officers. We are so proud of the accomplishments of:
2 National Officers:
• 7th National President: Vivian Osborne Marsh (1935-1939)
• 2nd National Vice President: Khadija Fredericks (1992-1994)
9 Farwest Regional Directors:
• Vivian Osborne Marsh (1925-1929)
• Eleanor Carroll (1932-1933)
• Marguerite Evelyn Ware (1934-1937)
• Mabel Lockett Martin (1939-1943)
• Doreene Johnson Scott Walton (1943-1945)
• Samantha Lee (1948-1951)
• Homoiselle Davis (1972-1976)
• Doris Jackson Britt (1997-2001)
• Tressa Latham Williams (2005-2009)
2 Farwest Regional Representatives:
• Andrea Holloway Lowe (1991-1993)
• Jolene Lenore Cook (1993-1995)
In March 2009, BBAAC celebrated, in grand style, 75 years of service to the Bay Area community anniversary with events in Oakland, CA. The theme was "In Full Stride at 75". The Diamond Jubilee Gala Celebration was held on March 28, 2009 at the Oakland City Center Marriott. Over 400 guests, including 14 of the chapter's past presidents were in attendance. Activities included dinner, dancing, live entertainment and a historical montage chronicling the Chapter's evolution.  Distinguished 17th National President, Mona Humphries Bailey was the featured guest for the evening.
Today, 125 members of the Berkeley Bay Area Alumnae Chapter work to carry out our Sorority's mission.